New Staten Island Outlet Mall Buoyed by Ferry Tourists and Locals
Formerly a parking lot near the boat terminal, the $650 million complex offers an expansive promenade with spectacular Manhattan views
Anne Kadet June 25, 2019 10:00 am ET
When I met developer Joseph Ferrara last week to tour Empire Outlets, New York City's first-ever outlet mall, I asked him for a one-word superlative to describe his mammoth shopping center.
And my first impression of the $650 million center, which opened last month on Staten Island's North Shore, was that of a pleasantly contemporary retail complex you could find just about anywhere.
It offers vast expanses of aluminum, concrete and glass, but lacks the rats, street buskers, $6 Halal lunch carts and other assorted wonders I usually associate with the city.
Fellow shoppers seem to agree. It looks like an airport, said one. A stadium, ventured another. A third said the development "looks like something from 'Blade Runner.' "
The mix of shops and restaurants doesn't help. A Starbucks , Gap Factory and GNC will soon be joined by a Verizon Wireless and a Häagen-Dazs.
Even Empire Outlet's regal theme—sections are denominated with names such as "Crown Courtyard" and "Royal Passage"—wasn't inspired by the city, but Mr. Ferrara's favorite television show, "Game of Thrones."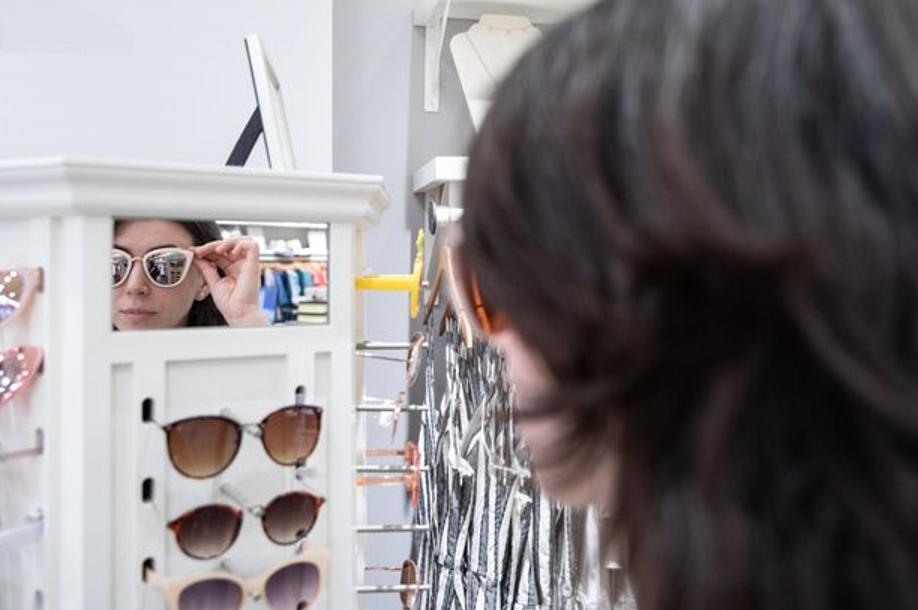 So what makes it very New York?
"It's not your typical outlet center on the side of a highway," says Mr. Ferrara, a Staten Island resident and principal with the outlet's developer, BFC Partners, a Brooklyn-based outfit best known for affordable housing.
True that. The outlet, built on city-owned land formerly occupied by a parking lot, offers an expansive promenade with spectacular views of Manhattan. It's so close to the Staten Island Ferry terminal, you practically can walk off the boat and into the H&M .
The mall's 22 escalators and 21 elevators, meanwhile, are denoted by bright orange glass, "In homage to the Staten Island Ferry," Mr. Ferrara says, referring to the color of the city boats. "Cool, right?"
There will be DJs spinning tunes and outdoor movie nights, he adds, creating the lively public life that New Yorkers crave.
But to my mind, the most New York thing about Empire Outlets might be the fact that outside Staten Island, no one seems to have heard of it. In any other town, the launch of a 1-million-square-foot mall would be a big deal. Here, the closing of an independent bookstore in Manhattan gets more attention. Ignoring Staten Island, after all, is a time-honored New York tradition.
Mr. Ferrara doesn't seem worried. Empire Outlets attracted 165,000 shoppers its opening weekend in May and is averaging 20,000 visitors a day, according to cellphone and clicker data, he says. And that's before the debut of the virtual golf complex, the 28-vendor food hall, the 600-seat beer garden or the July 4 launch of Nordstrom Rack, its anchor tenant.
"The soccer moms are really looking forward to the Nordstrom Rack opening. I'll tell you that!" Mr. Ferrara says.
So who's shopping at Empire Outlets? Tourists. Roughly 4.5 million visitors ride the Staten Island Ferry every year and now they can add outlet shopping to their itinerary, Mr. Ferrara says.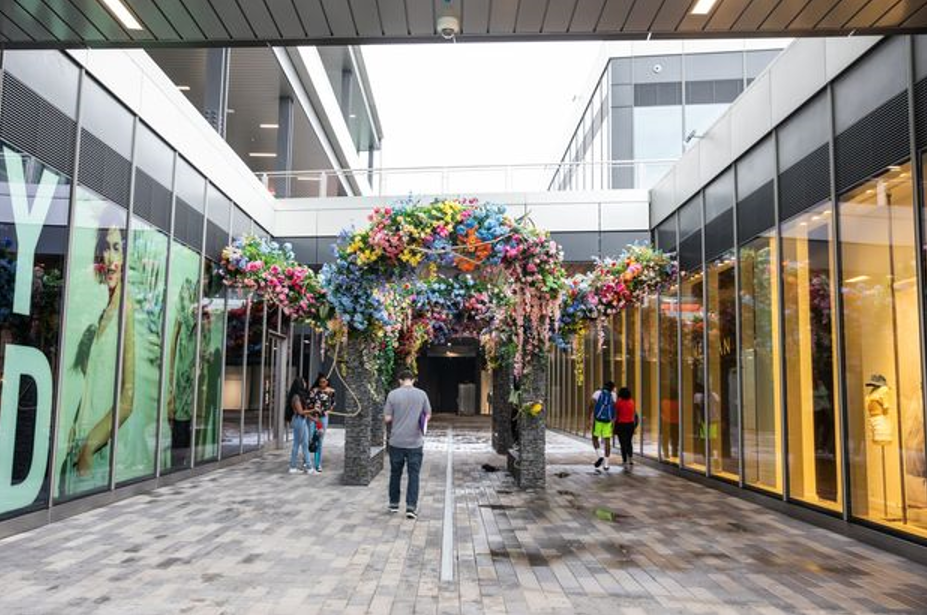 The globe-trotters are loading up on jeans, hoodies and candles. One rainy afternoon last week, I met tourists from Israel, Sweden, Colombia, China and France who said they discovered the outlet after seeing "brand ambassadors" in the ferry terminal holding signs and shouting "Empire Outlets to your right!" Inside the Banana Republic Factory dressing room, it sounds like the Tower of Babel.
Empire Outlets also is joining with tour operators who plan to bring shoppers by the busload or on the ferry as an add-on to lower Manhattan tours. Later this summer will see the opening of a visitors center with a currency exchange and shipping desk.
The mall's other big demographic? Staten Islanders, of course.
"Our borough has the most disposable income of all five boroughs. They really like to shop," Mr. Ferrara says
Empire Outlets attracted 165,000 shoppers its opening weekend in May and is averaging 20,000 visitors a day, according to cellphone and clicker data. Photo: Jackie Molloy for The Wall Street Journal
Aside from the Staten Island Mall on the other end of the island, the borough has been under-retailed, he says. And there's also the outlet mall's 1,250 parking spaces.
"Staten Islanders like parking," Mr. Ferrara adds.
Indeed, while about half the shoppers I interviewed were tourists, the other half were Staten Islanders. They seem happy with their new hang out.
"We've been waiting a long time, we're excited," says Topher Campbell, a retired consultant who lives nearby. "I like that there's a Brooks Brothers. There's something here for everyone."
Local Christy Smith, relaxing at the waterfront Starbucks, said this was her fifth visit to the mall since it opened. "Not just for the stores, but for the view," she says. "It's something different."
Did it bring her "pure joy," as the outlet's website boldly promises? "Shopping anywhere would bring me pure joy," she says. "I could be on the moon shopping, and it would bring me joy."
Original Story: https://www.wsj.com/articles/new-staten-island-outlet-mall-buoyed-by-ferry-tourists-and-locals-11561471200